Stripe for VirtueMart 2 & 3 / Joomla 2.5 & 3.x
We provide free documentation for our extensions, accessible for everyone to read. Please make sure that your question is not answered in the documentation below before submitting a ticket for support. It will save you time! Feel free to suggest us any improvements, or detail missing.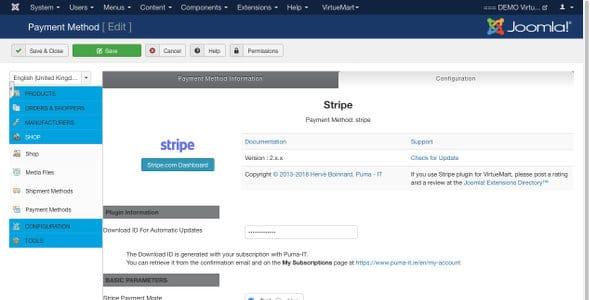 Instructions and first set-up
Install the Stripe plugin for VirtueMart like any Joomla extension
Enable it in Joomla plugin manager
Go to VirtueMart > Payment methods
Click New and select VM - Payment, Stripe
Name it like "Credit Card or Debit Card via Stripe secure server" and Save to enable the configuration tab
In the Configuration tab, add your Stripe settings and Save
Please note both Stripe Test Secret Key and Stripe Test Publishable Key are required to test a transaction. It will failed otherwise.
Publish the Payment Method and Save & Close
Configuration
Here is an overview of the available Configuration settings. All descriptions are available in the tooltips of the options.
Plugin Information
Download ID For Automatic Updates
The Download ID is generated with your subscription with Puma-IT.
You can retrieve it from the confirmation email and on the My Subscriptions page at https://www.puma-it.ie/en/my-account
BASIC PARAMETERS
Stripe Payment Mode
Test
Live
Stripe Test Parameters
Stripe Test Secret Key
Stripe Test Publishable Key
Stripe Live Parameters
Stripe Live Secret Key
Stripe Live Publishable Key
Stripe Account Settings
This section defines how your Stripe.com account will behave.
3D Secure support


Since v2.2.0

3D Secure provides a layer of protection against fraudulent payments that is supported by most card issuers. Unlike regular card payments, 3D Secure requires cardholders to complete an additional verification step with the issuer. Users are covered by a liability shift against fraudulent payments that have been authenticated with 3D Secure as the card issuer assumes full responsibility.
Disabled
3D Secure is disable and transactions are processed like regular card payments, ignoring 3D Secure options.
Enabled (only when 3DS Required)
3D Secure is enabled only when it is required by the card issuer. If 3D Secure is optional for a card, transactions are
processed like regular card payments.
Requested (when 3DS Optional)
3D Secure is enabled when it is required AND optional by the card issuer.
Here is a checkout example with a default template (frontend):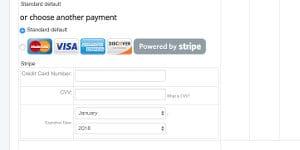 SSL/TLS and Stripe
This information is taken from Stripe.com help section. Please read it carefully here https://stripe.com/help/ssl
SSL (Secure Sockets Layer) and TLS (Transport Layer Security) are mechanisms for safely transmitting data.
Do I need to use SSL/TLS on my payment pages?
Yes, for a couple of reasons:
It's more secure. In particular, it significantly reduces your risk of being exposed to a man-in-the-middle attack.
Users correctly feel more comfortable sharing their payment information on pages visibly served over HTTPS. Your conversion rate is likely to be higher if your pages are served over SSL/TLS, too.
What if I don't want to set up SSL/TLS yet?
You can test your page--but not live transactions--before installing your SSL/TLS certificate. You don't need to enable HTTPS until you're ready to go live.
To test live transactions without your own SSL/TLS certificate, you could host your site with a provider that provides a secure subdomain.
For more details, please logon to https://stripe.com/help/ssl.
Testing
Stripe will provide you with an easy test setup before going live. For your convenience, there is an option to display some card Test numbers within the payment form:


For more testing, here are some test cards to simulate transactions:
https://stripe.com/docs/testing#cards
Stripe Email Receipts
This is NOT the confirmation email sent by VirtueMart, but a Payment receipt email, sent by Stripe.com.
Receipts will NOT be sent for test mode charges.

The email address used is the Billing Address email (BT). The receipt will not be sent until the charge is paid.
If this option is enabled for a charge in live mode, a receipt will be sent regardless of your email settings in Stripe Dashboard:
https://dashboard.stripe.com/account/emails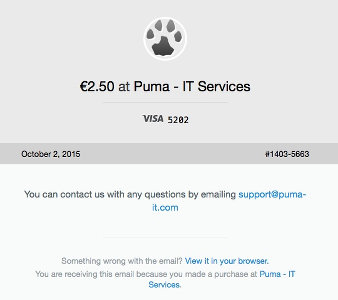 Customise your email receipts
https://dashboard.stripe.com/account/public
For more details, please check the Stripe.com documentation
https://support.stripe.com/questions/email-receipts
Logo for Payment (Cards and Stripe)
There an option in the plugin parameters to select an image to be displayed with the payment name:
VirtueMart > Payment methods > [Stripe method name] > Configuration > Logos
Here you can select the images that are in the folder images/stories/virtuemart/payment.
For you convenience, here are few images that you can freely download and use for your website:




You can also find more Stripe images on the official Stripe graphical resources.
For more information about this feature, please read the VirtueMart documentation.