Stripe for VirtueMart 3
Puma-IT Stripe plugin for VirtueMart supports 3D Secure with VirtueMart 3 & Joomla 3.x ! It still supports partly Joomla 2.5 with VirtueMart 2.6 and 3.0.
With Stripe, accept payments from anyone, anywhere!
Main Features
NEW ☆ Spanish and Italian translation included in package
NEW ☆ Full set of Restrictions: Countries, minimum and maximum Amount, Publish Start and End, and Shipment restrictions
3D Secure Card Payments (optional)
Works with PHP 7.1 & 7.2
Implements Stripe Source along with Card, useful for other payment sources to come
Uses the Joomla Update System, enabling "one click update" from the Joomla Administrator backend with a download ID
Works with VirtueMart one page checkout
Stripe API upgraded to TLS 1.2
Option to send Stripe Email Receipts
In Test mode, option to display credit cards Test numbers
Here is a video showing a full checkout with 3D Secure (default frontend template):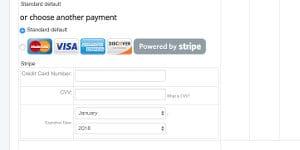 Multilingual
The plugin is also provided with several language files in frontend and backend:
Spanish (es-ES)
French (fr-FR)
Italian (it-IT)
More languages to come (and possible on request).
International cards and currencies
Your business can accept all major debit and credit cards from customers in every country in 135+ currencies, including Visa, MasterCard, American Express, Discover, Diners Club and JCB. You can also use 3D Secure for any payment.
Available for businesses in 25 countries
Accept payments from anywhere in the world. Stripe currently supports businesses in the United States, Canada, Australia, New Zealand, United Kingdom, Ireland, Germany, Austria, Luxembourg, Switzerland, Netherlands, Belgium, France, Denmark, Finland, Norway, Sweden, Spain, Italy, Portugal, Hong Kong, Singapore and Japan (full list and more to come here).
You will require a Stripe account in order to use the Puma-IT Stripe plugin. With Stripe.com you need to use SSL/TLS on your payment pages. However, you can test your pages--but not live transactions--before installing your SSL/TLS certificate.
For instructions on how to setup our plugin, please visit our documentation section and our trouble shooting page.
This plugin has been
successfully tested
with
- Joomla 3.9.2, VirtueMart 3.4.2, PHP 7.1.26 and 7.2.14
- Joomla 3.8.13, VirtueMart 3.2.14,
- Joomla 3.6.5, VirtueMart 3.0.18,
- Rupostel One Page Checkout 2.0.266, VM 3.0.4 / Joomla 2.5.27.
You may need to use our plugin
version 1.1.2
for the following versions:
- Joomla 2.5.28, VirtueMart 2.6.12.2 and VirtueMart 2.0.26d.