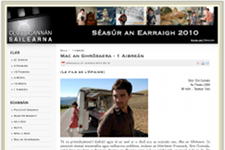 Dan Dwyer
Club Scannan committee
I was amazed by the website designed by Hervé Boinnard for our film club. We needed a simple and effective way of pointing our potential members to the films we show each season and give them a brief outline of the storyline along with a clip to the film. The website Hervé designed for us looks fantastic, is easy to follow and best of all the default home page changes to the particular film we are to be showing next. Magic!
Bhí áthas an domhain orainn an suíomh idirlín a shocraigh Hervé Boinnard dúinn a fheiceáil. Bhíomar ag iarraidh teacht ar réiteach simplí ach éifeachtach a thabharfadh eolas don lucht féachana a d'fhéadfadh a bheith again faoi na Scannán a bhí beartaithe againn. Tá an suíomh atá again anois iontach ar fad ó thaobh dearaidh agus úsáid de agus níos fearr ná aon rud eile osclaíonn sé ar an leathanach a bhaineann leis an chéad taispeántas eile! Iontach.